Solar power offers many environmental benefits. As the production of panels increases, producers and owners must consider recycling strategies to avoid irresponsible waste disposal.
There can be no denying that the solar industry is booming. Solar PV is becoming more prolific worldwide, and competitive production costs are challenging fossil fuel markets. According to the International Energy Agency (IEA), solar PV is now the cheapest source of electricity in history for projects with low-cost financing and access to high-quality resources. The declining costs of solar and improving panel efficiency due to technological advances all add to the low-risk appeal of solar.
While solar power generation produces electricity without carbon emissions, it has the potential to create a new environmental challenge in the future if waste panels end up in landfills.
Managing PV waste is paramount
According to Solar Energy UK research, solar supplied more than 4% of the UK's energy demand in 2021 and could treble by 2030. Solar energy has massive potential to support the transition toward a NetZero economy. However, like all electrical and electronic equipment, solar panels will eventually reach the end of their useful life and require disposal.
The typical lifespan of a solar panel is between 25-30 years. Many are decommissioned before the end of their predicted lifespan due to damage, degradation, or declining efficiency, making it difficult to produce energy at economically viable levels. As the industry continues to grow and more panels are in production, we must consider how to manage waste once a solar panel reaches the end of its useful life.
The International Renewable Energy Agency (IRENA) has calculated that between 43,500-250,000 tonnes of global PV waste had accumulated by 2016 – representing less than 0.6% of the total panels installed (4 million tonnes). By 2050 waste streams are predicted to reach more than 5 million tonnes per annum – which means that cumulative PV waste will rise to 60-78 million tonnes. However, although the rate of waste production is alarming, the value of recycled waste material from solar panels could amount to $15 billion by 2050.
Transforming solar panels: recycle and reuse
We all know that decommissioning is inevitable, so the real challenge is learning how to reduce the impact of waste through recycling and reuse.
A decommissioning project scope looks much like an installation in reverse. At the time of decommissioning, project equipment should come full circle by reusing or recycling materials for remanufacturing as part of a panel recovery plan. Having a recovery plan in place with recycling providers will be key to efficient cost-effective decommissioning efforts.
According to recent research, almost 95% of a solar panel structure is recyclable. A solar panel typically consists of an aluminium frame, glass, crystalline silicon solar cells, and copper wiring. Most elements can be extracted, separated, recycled, or reused. High-value recycling maximises resource recovery and increases the sustainability of PV.
Solar PV: Why recycling should be on your agenda now
Technological and efficiency standards are beginning to push the early decommissioning of solar panels to replace them with newer, more efficient ones. While there may seem to be plenty of time before the decommissioning process of your solar project, planning ahead will ensure that your financial model can account for any potential costs involved in the replacement and removal of the PV panels.
The 2012 Waste from Electrical and Electronic Equipment (WEEE) directive from the European Union (EU) remains the primary legislation setting the requirements for solar PV panel recycling in Europe. This directive refers explicitly to solar panels and the need for responsible recycling, reuse, and disposal. Financial responsibility for the collection and disposal of WEE appears to direct towards the original manufacturers and distributors of the electrical and electronic equipment (EEE). The WEEE directive focuses on Extended Producer Responsibility (EPR).
For B2B (business-to-business) equipment, this typically places the responsibility on the original manufacturers for financing the collection and recycling of PV panels. However, complications surrounding the directive remain, stemming from the gradual and varying introduction of laws to reflect the directive's intentions from individual EU member states. There are also certain discrepancies between countries on the financial obligations for waste disposal and recycling, depending on whether the panel production is defined as B2B, B2C (business-to-customer) or dual-use equipment.
After a recent ruling from the European Court of Justice, manufacturers of solar panels installed in the EU during the seven-year period after August 13, 2005, may not be required to carry the costs related to managing waste from solar PV products, meaning those costs may fall to owners.
It is evident that the details of the law surrounding the financing of solar panel decommissioning, recycling, and disposal remain complicated and variable between EU countries. Early expert project analysis is essential to gain an accurate prediction of future costs.
---
Quintas Advisory can support you in building an effective recycling strategy to save time and money while recovering valuable materials supporting the move to a solar circular economy.
Contact our team of experts to see how we can help you recycle responsibly and cost-effectively.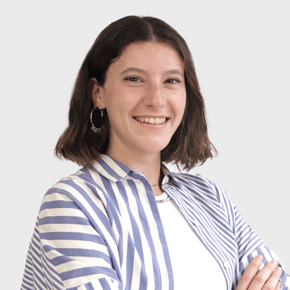 Patricia Sénen
Patricia is an Associate Project Engineer specialising in renewable energy and the environment. As part of our team of Quintas Advisory experts, she provides technical advice for issues related to solar PV panels throughout their lifecycle.