Olga Olmedo
Head of Accounting
Joined Quintas: 2016
Education: University of Seville (Seville, Spain), Business Administration and Management, 2010
Interests: Dog walking, reading, watching films, and doing sports.
I always thought I'd be a scientist. I'm very environmentally conscious and knew that I wanted to work in an industry that supports sustainable living.
The thing is, sometimes your pathway changes – and that's okay. While I was studying for a biology degree at the University of Seville, I took on a part-time administrative job to help pay for my studies. I realised while working that I really enjoyed finance and accounting and knew that I needed to change my degree.
I went with my gut and took the leap to change my studies and graduated from the University of Seville in Business Administration and Management in 2010.
"I chose to join the renewable energy sector because I wanted to be part of an industry that is working towards making a positive impact on the planet."
Being from Seville, I love my city - but I also love to travel. What's really great about finance and accounting is it's allowed me to work all over the world.
After graduating I spent time working in South Africa, USA, Israel, and Chile – to name just a few countries! I'm a specialist in financial reporting for the stock market, which means my skills are transferable to almost any industry. I chose to join the renewable energy sector because I wanted to be part of an industry that is working towards making a positive impact on the planet.
In my opinion, mitigating global warming will be humanity's single biggest challenge this century. A huge part of this crisis can be combated by decarbonising our power.
I joined Quintas Group as a Senior Finance Manager in 2016 and later progressed into my current role as Head of Accounting at the beginning of 2020. I was impressed by the whole culture of Quintas when I joined the team. A professional yet friendly environment with lots of diversity – I knew I'd thrive here. The team at Quintas is relatively small, but it is great to work in such a vibrant multicultural environment.
The Spanish solar market has boomed in recent years and now is one of the most interesting solar markets in Europe. I'm excited to help our clients work towards Spain's commitment to switch completely to solar energy and renewable electricity by 2050.
I'm most happy at work when I'm reporting to clients, delivering outputs, and managing data. It's a challenging role but it's a rewarding feeling when you know that clients are happy.
Aside from output delivery, I'm passionate about supporting the development of my team – both as a group and as individuals. I enjoy mentoring new team members and interns. I take the time to ensure everyone is up to speed with new developments and market trends. The market is so fast paced and demanding, we all have to be ready for anything. The biggest challenge we face is to remain technically efficient in order to meet the expectations of clients, while working in a rapidly changing and dynamic sector.
Working in such a demanding sector means that a good work-life balance is especially important. Outside of work I love walking my dogs and spending time in nature, it really helps me to relax and disconnect.
My advice if you're considering your career options is to choose something you're passionate about. Focus on what will make you happy before you worry about what other people say. You might get told that you can't achieve a specific goal, but by pursuing your passion that will ensure you're already halfway there.
Learn more about Quintas Energy
We all have a story to tell…
Follow #QuintasStories to find out more about the people who make your assets perform optimally.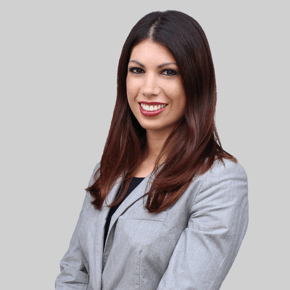 Olga Olmedo
Olga specialises in setting up and running finance and accounting teams. She is responsible for cash flow management, implementation of internal accounting policies and controls, reporting and loan compliance.