Joanna Leigh
Head of Asset Management, Australia
Joined Quintas: 2017
Interests: Travelling and spending time at the beach.
We're going through a dramatic structural shift in the energy generating base in Australia. Clean energy technology is pushing down electricity prices and reducing the profitability of fossil fuel generation.
As the Head of Asset Management for Australia, a major part of my role involves overseeing and managing solar portfolios for our clients across Australia along with supporting new business development.
"I know the future is bright for the renewable energy market in Australia."
It's a whole different world for renewables in Australia. Due to its remote location, it's vital to have a local team managing the solar assets. Solar energy asset management represents a challenge in so many different ways that it is difficult to identify another market that fully compares. My team is dedicated to finding the solutions to these specific challenges to ensure solar investment in Australia can be managed effectively and profitably.
We provide the local expertise needed to navigate the solar energy market in Australia. Our services provide clients with solid advice that helps to save a lot of money and time in the investment and operational management process.
The reality is, Australia provides the ideal landscape for solar. The biggest challenge is contending with the intentions of the pro fossil-fuel government. Pushing fossil fuels as the primary source of energy production remains a key part of the plan for Australian energy generation – as coal continues to provide almost two thirds of electricity.
The good news is the significant cost reductions in both wind and solar technologies have made them the most economic options for new build energy generation. This means there are lots of opportunities for investors – and we're here to help.
I'm a chartered accountant by trade, so finance is my specialism. I found my niche in renewable energy asset management. Before joining Quintas I spent 6 years managing solar assets for Octopus Energy in the UK.
You learn something new every day when you're managing solar assets – never a day goes by without new challenges to face and solutions to be found. You have to champion the little wins and I always make sure I do that with my team.
If you're looking to join the renewable sector, you'd best get ready for the "solar coaster" ride of your life! There's so many ups and downs - you'll always be working hard if you want to do a good job, but I'd say job satisfaction outweighs the challenges in this sector. I'm passionate about the power of renewables and I know that the future is bright for solar energy in Australia.
Learn more about Quintas Energy Australia.
We all have a story to tell…
Follow #QuintasStories to find out more about the people who make your assets perform optimally.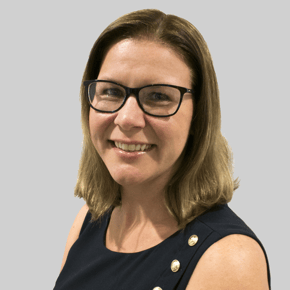 Joanna Leigh
Joanna heads our Australian teams and develops Quintas Energy's businesses in the country, leading a group of 8 people.