Jesus Nuñez
Group Head of Asset Management
Joined Quintas: 2017
Education: University of Seville (Seville, Spain), Industrial Engineering
Interests: Spending time with family and sports.
An industrial engineer by trade, I have been working in the renewable energy sector for over 16 years.
After graduating with a degree in Industrial Engineering from the University of Seville in 2003, I spent some time working in Spain, Italy and the UK on the construction side of various renewable energy projects. I initially worked on the construction and maintenance of grid-connected PV plants and later moved into solar energy project management.
I joined Quintas Energy as a Senior Asset Manager in 2017. Since then, I've moved into the role of Group Head of Asset Management – meaning I oversee the global asset management function for Quintas.
My main role is to manage the senior asset management team to ensure they meet the needs of our clients. We work within the guidelines of the international asset management standard ISO 55001 – meaning we are certified to manage the lifecycles of assets in the most effective way.
"It is an exciting time to join the renewable energy industry. As an engineer, you will be needed".
What I enjoy most about the asset management side of solar projects is the chance to see and support the whole lifecycle of a project. It is a great feeling to see my team helping portfolios progress and provide solutions along the way to ensure their performance remains optimal.
The main challenge we face in the field of solar asset management is predicting what is going to happen to the assets as they move through the lifecycle.
We know that for an asset to perform well, it needs control and supervision. Tracking the technical and financial performance of assets is vital to identify shortcomings and solutions to improve output.
It is vital to identify underperforming assets as early as possible to maximise the return on investment. Sub-optimal performance can be due to poor design or lack of maintenance. My asset management team work to mitigate risks and predict faults before they happen.
Onboarding new assets into a portfolio also comes with its own set of challenges. Staff may be swamped with work and the new plant may be neglected. Ensuring that new assets are monitored from the time of acquisition is the only way to ensure best returns.
My advice if you are considering a career in the renewable energy sector is to go for it! Renewables are our present and will be the future for global energy production.
It is an exciting time to join the renewable energy industry. As an engineer, you will be needed. There is so much room in the industry for new and experienced engineers to bring new skills and ideas. For investors, it is a rapidly developing industry and delivers far better return on investment than fossil fuels, but there is still so much to do to mitigate climate change.
Find out more about Quintas Energy
We all have a story to tell…
Follow Quintas Stories to find out more about the people who make your assets perform optimally.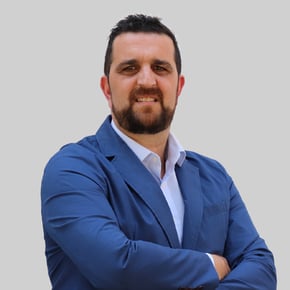 Jesus Nuñez
Jesus leads our group's Asset Management business and ensures the delivery of all services according to the ISO 55001 standard.