Francisco Lopez
Business Intelligence Manager, Quintas Analytics
Joined Quintas: 2016
Education: University of Seville (Seville, Spain), Industrial Engineering
Interests: Playing the piano and padel
My Quintas story started back in 2016 when I joined the asset management team as an intern while I was studying for my industrial engineering degree. I found working alongside studying a real motivator to keep me focused on my goal of crafting a career in the renewable energy sector.
One of the things I immediately noticed about Quintas was the diverse and vibrant culture. It's a friendly and motivating environment to work in and even as an intern I was made to feel like I was an important part of the team.
Once I completed my internship, I was lucky enough to be promoted to Associate level working as an Asset Manager. After a year working on the operational side of asset management I joined the Business Intelligence team as a Business Analyst. In this role I was given the opportunity to use my technical skills to develop business intelligence reports and new projects.
One of my favourite projects has been creating our drone thermography services for solar PV plants. Drones are transforming the solar industry. They make the whole inspection process much safer and more cost-effective. I'd never flown a drone before embarking on this project, but after 4 months of drone pilot training, I became a fully certified drone pilot with the ability to fly drones across Spain.
"Quintas provides a great environment for you to develop professionally"
When I carry out an aerial photovoltaic inspection, I'm looking to see if there are any anomalies at the site. I identify and analysis the PV panels through a process of creating a thermal map of the whole site. Drones can accurately detect system faults and can even spot issues with vegetation management. Aerial inspection software is a hugely valuable tool in solar farm data acquisition.
Finding solutions for clients through automating processes is a really rewarding part of the job. Automation has changed the solar industry. With the right systems in place, you can multiply the number of customers you support, raise the quality of your services, and close jobs faster without the need to hire more staff.
Quintas provides a great environment for you to develop professionally. I've always been given the opportunity to try new things. No matter what level you are within the company you feel respected and trusted to get the job done. I've been given the freedom to grow and enough support to learn something new every day.
In my current role as Business Intelligence Manager, I've created a range of data management tools, automated systems, and reporting processes.
In terms of my career path, it actually took me quite some time to decide what degree to choose. I'm a passionate musician and initially thought I'd train in classical music. One of the things that really swayed my decision towards engineering was the career progression opportunities. I knew that the energy industry was evolving, and it was clear that renewables were rapidly becoming prevalent in the energy mix. I wanted to join an industry focused on having a positive social and environmental impact on society, which is why specialising in renewable energy made sense to me.
I'm an industrial engineer by trade but I love music and sports, so when I'm not working, I tend to be found playing my piano or playing a game of padel.
The future is in renewables for energy generation. I'm proud to play a part in supporting the growth of this environmentally friendly solution for power production.
Learn more about Quintas Analytics and our Data Solutions.
We all have a story to tell…
Follow #QuintasStories to find out more about the people who make your assets perform optimally.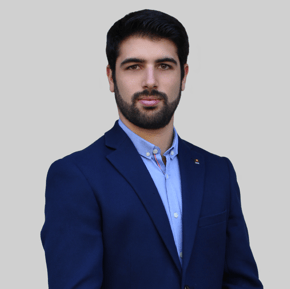 Francisco Lopez
A Product Owner in the Artificial Intelligence Team. Francisco participated in the development of several internal projects of the company, providing and defining the requirements of the projects and their subsequent development.