From our new headquarters in Seville, Quintas Energy manages over 470 solar plants and more than 4,000 megawatts of energy globally, equivalent to one-third of the photovoltaic production currently installed in Spain.
We welcomed guests to the official opening of our brand-new headquarters in Seville this week (Tuesday, March 15). Our new headquarters and offices are located in the Buenos Aires building, Avenida República Argentina, 25 in the Andalusian capital.
Guests spent the morning learning about the challenges facing the energy sector from José Donoso, General Director of the Spanish Photovoltaic Association (UNEF) and discovering more about Quintas Energy from our Managing Director, Declan O'Halloran.
The morning also included a guided tour of our facilities by Declan O'Halloran, where he introduced guests to our state-of-the-art 24/7 Control Room.
Our new headquarters provides a workspace for over 180 professionals, including engineers, computer scientists, economists, and lawyers, a team reflecting a clear commitment to equality with a 50/50 gender split of female and male workers.
Renewable energy challenges
In his inaugural speech, José Donoso outlined the National Integrated Energy and Climate Plan (PNIEC), which sets the objectives for the energy transition in Spain.
Donoso explained: "The biggest challenge we face is public perception", referring to the idea that some renewable projects are now starting to face social objection.
He continued to add how the solar landscape is changing: "A few years ago, photovoltaic energy was the most expensive option for energy generation but thanks to increasing public support and technological advances, production is becoming much more efficient and cheaper." In fact, solar photovoltaic energy is now the cheapest energy source worldwide, period.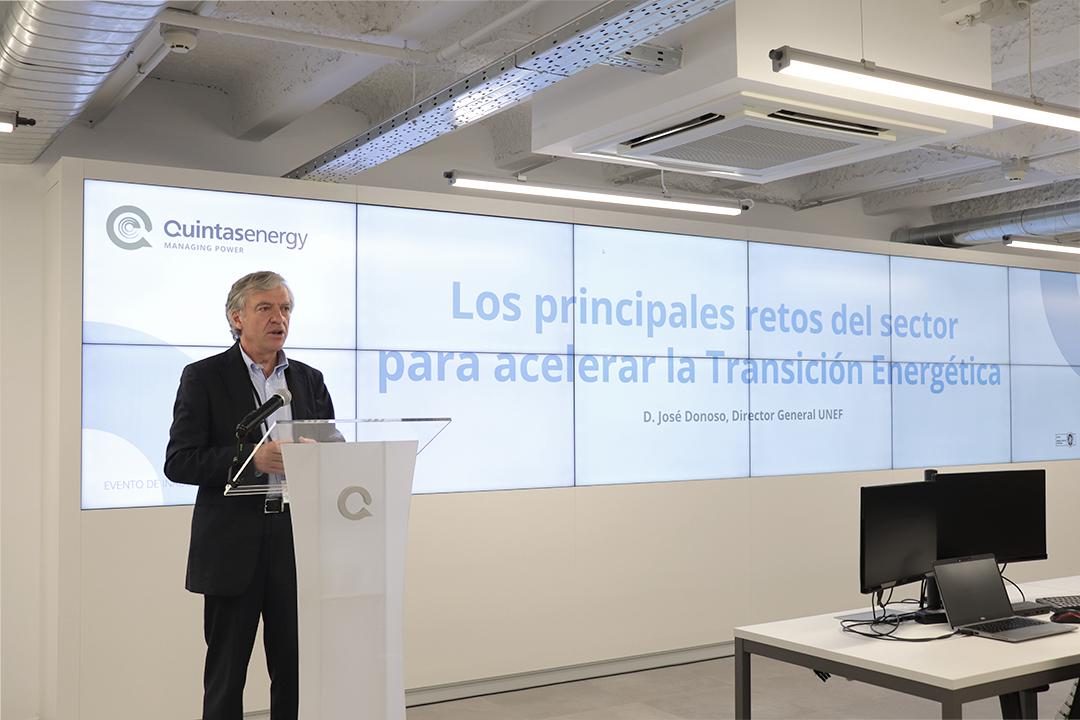 According to the General Director, the industry needs to "design plants that avoid causing conflicts, because photovoltaic projects require a collaborative effort between the developers and the local community. There must be a feeling of mutual benefit to succeed."
Accelerating the energy transition
Declan O'Halloran argues that "the future depends on how we manage the energy transition" - something that current events emphasise more than ever. It has become clear that there is an urgent need to rethink Europe's energy strategy. There is an ever more imminent need to shift away from gas and fossil fuels.
Declan added: "Decarbonisation is vital, but in light of the sad events we are living through, the focus must be on energy security and sovereignty". Declan also explained to our guests that Quintas launched "two specific business units, one dedicated to technical consulting - Quintas Advisory - and another focused on the analysis and governance of data from renewable projects - Quintas Analytics. Both units aim to "contribute to the acceleration of the energy transition in a controlled and efficient way".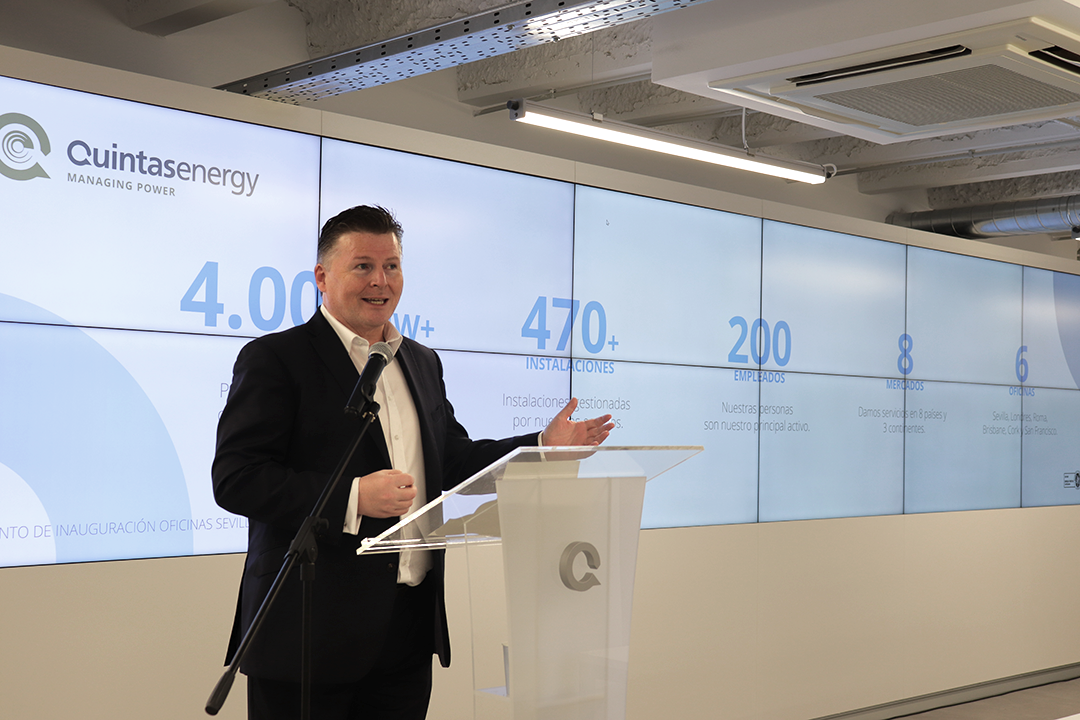 Our Managing Director remains optimistic that if the energy transition proceeds in a well-managed way: "renewables will be a defence mechanism against the inflation that is being talked about so much at the moment". He forecasts a year of continued growth for Quintas, expecting an increase of over 15% in turnover for 2022.
A collaborative and innovative office
Our new headquarters offers a centralised hub for the supervision, monitoring and management of more than 4,000 megawatts of solar energy from more than 470 photovoltaic and storage plants installed across the world, such as Spain, Italy, the United Kingdom, Australia, Portugal, Ireland, France and the United States. Designed by staff in collaboration with the Sevillian architecture firm CM4, with the vision: to create an open and collaborative space, where communication and the talent of our teams and each business unit can flow naturally.
It was an honour to welcome José Donoso to officially launch our new 24/7 Control Room during the inauguration event. This state-of-the-art Control Room proactively monitors and optimises solar PV plant performance. Our experienced Control Room team work around the clock 365 days per year to provide power forecasting for grid compliance and trading, timely incident management and proactive PV monitoring and maintenance.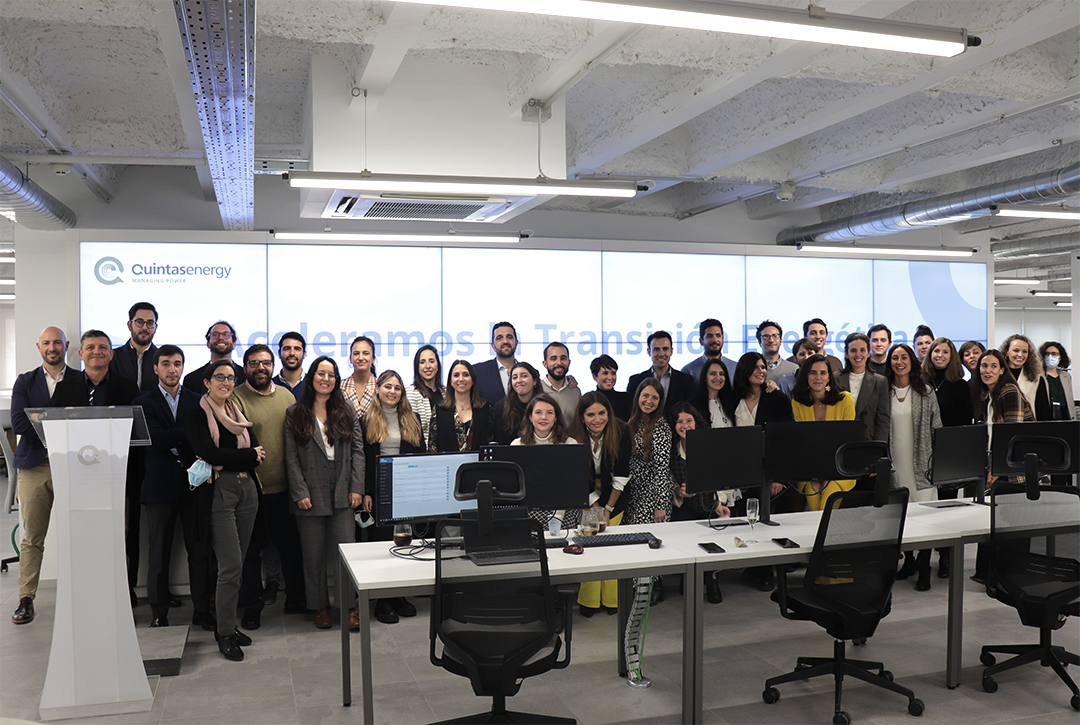 With a consistent commitment to environmental sustainability, our new space is 'paperless' and has its energy supplied from renewable sources. We are also following a hybrid workplace model, providing flexibility for the team to allow for a mixture of at-home and office-based work patterns.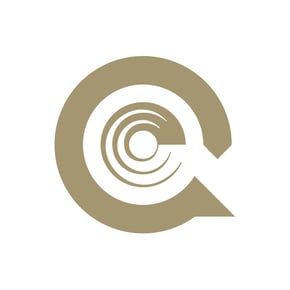 Quintas Energy
Quintas Energy is a global platform that provides independent Asset Management services across the world.